Details

Created on Monday, 13 August 2018 18:44
Huge thanks to Ken RW3DD for designing this beautiful plaque available to whoever works EJ0DXG from 4 different IOTA Groups.
Remember, EI0DXG will also be QRV throughout and until September 30th as a 'Bonus' or 'Joker' station from Mainland Ireland EU-115. This station can help you to reach the minimum 4 Groups required if necessary.
Ken has also added a bonus to those who are lucky to work us from all 5 groups and has now added the ''Worked All 5 Groups'' endorsement, a nice addition for the collector! You can see a sample of this Plaque below.
Orders are now being taken for the Plaques and you can find more information by visiting the Most Wanted Website here
OR email Ken at this address;
This email address is being protected from spambots. You need JavaScript enabled to view it.
Details

Created on Thursday, 09 August 2018 08:31
Qsl Cards for Chris VK3FY's recent trip to Russia are now printing at UX5UO Print Shop.
Cards are available now on OQRS and will be ready in 2-3 weeks time.
Details

Created on Sunday, 05 August 2018 13:41
Since the sad news of the passing of Reg VE7IG, Qsl cards for the activity from the McGill Arctic Research Station (MARS) Axel Heiberg Island NA-043 should no longer be requested via that route.
Qsl Cards are being printed for the NA-043 dxpedition conducted by Pierre Fogal VE3KTB and will be available via M0OXO (as is already the case with the Eureka Research Station VY0ERC NA-008).
Qsl via M0OXO OQRS
Details

Created on Sunday, 05 August 2018 13:40
EJ0DXG will be QRV from Little Saltee Island IOTA EU-103 this weekend.
As part of the continued 'Irish Islands IOTA Tour 2018', Dave EI9FBB and Declan EI9HQ have already boarded the boat and will land on the Island this morning. Expect activity from early afternoon today.
This activation replaces the cancelled activation from EU-103 in June when the operation had to be postponed due to high sea conditions.
The duo will have two stations on air. Please look for them from 80m through 6m bands on CW, SSB & FT8.
Please remember contact with this station counts for the Irish Islands IOTA Tour Plaque (Most Wanted Plaques) that will be available after the event concludes in September.
From all the Irish Island IOTA groups, EU-103 is the most difficult with a 'wet landing' and tent and generator style. The team hope to be QRV until midday Monday 6th August but again, this depends entirely on the local weather.
Little Saltee Island was last QRV in May 2015.
Qsl via M0OXO OQRS
Details

Created on Wednesday, 01 August 2018 09:53
John is currently qrv again from Scarlett Point in the Isle of Man. He is mainly a Digital Mode operator so watch for him on the various modes.
You can also check out the live webcams at the site on the links below.
Details

Created on Tuesday, 31 July 2018 06:47
SP5APW Jacek will be active as 3W9JK/P from Cham Island, IOTA AS - 162, 15 - 22 September 2018.
He will also be active as 3W9JK from Ho An, 22 - 27 September 2018.
Qsl via his home Callsign.
Details

Created on Tuesday, 31 July 2018 06:38
Radio Amateurs members of Russian Robinson Club will be active as RT65KI from Idlidlya Island, IOTA AS - 065, 19 - 25 August 2018.
QSL via UA3AKO, ClubLog OQRS.
Pilot - EU7A.
QTH Locator - AP37ob.
WLOTA LH - 2266.
RDA - CK - 08.

Log upload planned on daily bases via the Satcom IRIDIUM GO (TNX RL3AA).
Due to complex and expensive logistics we need your financial support. PayPal address is This email address is being protected from spambots. You need JavaScript enabled to view it. . Please include your call sign.
For those who supported us before expedition starts RT65KI QSL cards will be mailed primary without any additional payment (of course if QSO in log!).

There were no activity from this IOTA group over the past 26 years
Details

Created on Monday, 23 July 2018 21:55
The full log from this last few days activity on Great Blasket Island has now been uploaded to M0OXO OQRS.
The Log name is ''EJ0DXG EU-007 GT BLASKET''
Qsl Cards will be prepared in the coming weeks. Look out for our next activation, we will publish more details nearer the time. In the meantime please look out for our Station EI0DXG which will be qrv from the Mainland (EU-115).
EI0DXG also counts towards the Irish Iota Tour 2018 Plaque which is available after the activation's end in September.
Thanks for your support, 73 de the EIDXGroup (EIDXG)
Qsl via M0OXO OQRS
Details

Created on Monday, 23 July 2018 07:58
So far there have been no surprises, everything is on schedule.
As you may recall, we are using the same Elecraft radios and amplifiers as the recently completed KH1/KH7Z Baker Island DX-pedition. Some people were concerned that the short turnaround time could be a problem. We're happy to report the following:
On Friday, July 20th the Baker Island Elecraft equipment was delivered to the factory in California. Elecraft will inspect, test, and refurbish the 8 K3s / KPA 500 stations.
We will also have 4 team owned high power amps for use primarily on the low bands. We will collect the equipment from Elecraft on about August 3rd. Our other equipment is already in California or will be brought to California by K3EL and K5GS.
On August 2nd Gene K5GS, Dave K3EL, Walt N6XG, Steve W1SRD, Mike WA6O and Chris N6WM will meet in Northern California to begin the process of integrating the equipment, testing and packaging for shipment to Braveheart in New Zealand. We will use the same shipping cases as KH1/KH7Z.
We will meet with members of the Baker Island team to discuss their experience, especially with FT8.
We will have 3 BGAN terminals on the island thanks to the Intrepid DX Team (Paul Ewing N6PSE) for loaning us their Hughes 9201 BGAN. The lineup will be one Wideye Sabre 1 BGAN and two Hughes 9201 units. We will integrate and test the BGANs in California. Bob Schmieder KK6EK (Cordell Expeditions) is also loaning us equipment for the project, including all the laptop computers which have been refurbished by Steve W1SRD.
While underway aboard Braveheart we will send position reports using our Garmin inReach device. From the island we'll be posting regular updates to Twitter / Facebook, and sending Press Releases to the DX bulletins. We think the use of Twitter / Facebook will minimize the usual Internet rumors.
Unless they bring their own satellite device, team members will not have access to their personal e-mail accounts while on the ship or the island. Team member families and the Chief Pilot will have our private BGAN e-mail address during the project. We expect to send some photographs from the island but the cost of about $6(USD) per megabyte will limit the number (size) of the images.
VP6D was issued a permit by the Pitcairn Island government to collect plant and soil specimens that will be sent to the National Antarctic Scientific Centre of Ukraine for their climate change research.
Financial support continues to build, with many DX foundations and clubs already onboard. We're still waiting for a few clubs and foundations to respond to our request for support. If your club / foundation is not on our sponsorship list (VP6D.com) please contact the officers and ask for their support of VP6D.
In the next few weeks we will be announcing some exciting project details.
Thanks for your continued interest in VP6D.
Team Ducie 2018
Details

Created on Saturday, 21 July 2018 13:07
Radio Amateurs members of 599 DX Group will be active as PS1S, from Santana Island, IOTA SA - 077, WLOTA L - 0714, ARLHS BRA - 062, DIB - RJ - 06, 26 - 30 July 2018.

Team - PU4ALZ, PY2VTC, PY2ZA.

They will operate on 80 - 10m CW, SSB, Digital modes, including activity in RSGB IOTA Contest, 28 - 29 July 2018.

QSL cards will be available via M0OXO OQRS
Details

Created on Tuesday, 17 July 2018 03:53
From EI9FBB - ''Delighted to add Martti Laine OH2BH to this year's line-up of speakers at DX Féile 2018. Martti will present 'Kosovo - a NEW DXCC entity' along with the latest Z66X DXpedition.
Martti OH2BH completes the programme and will present alongside Don Field G3XTT, Jeremy Sheehan EI5GM, Sebastien Poulenard F5UFX, Declan Craig EI6FR, Enda Broderick EI2II and Franz Langner DJ9ZB.
Be sure not to miss this amazing DX event.
See: www.dxfeile.ie/programme for full line up and www.dxfeile/bookings on how to book.''
Kudos to the EIDXG for the line up of Speakers & Entertainment at this years event!
Details

Created on Tuesday, 17 July 2018 03:50
From Martti OH2BH;
''The Kosovo International Friendship Consortium, Z66X, will activate Kosovo once again beginning July 19 through July 30th with emphasis on FT8 Digital from 80m through 6m and utilizing the recently released DXpedition mode version 1.9.1, downloadable from https://physics.princeton.edu/pulsar/k1jt/wsjtx.html
(Please read https://physics.princeton.edu/…/k1jt/FT8_DXpedition_Mode.pdf for details on split operation).
The operators are Enda EI2II, Declan EI9HQ, Martti OH2BH, Hans PB2T, Driton Z61DX and Fehmi Z62FB.
With the success of their first FT8 activations; OJ0BH, 7Q7EI, Z61AS and recently KH1/KH7Z, it is felt that FT8 DXpedition mode needs some further activation also in Europe. Recent authorization of 6M in Kosovo will also add to this desire.
So as not to impede on the normal FT8 traffic we will operate on the following frequency's
Band FT8 DXpedition
80 3567
40 7056
30 10131
20 14090
17 18095
15 21091
12 24911
10 28091
6 50323
QSL Z66X via OH2BH via Clublog which will be on-line throughout the operation.
We are delighted to announce that 'Kosovo – the World's newest DXCC entity' along with this Z66X operation will be presented at 'DX Féile' – the EI DX Convention, by Martti OH2BH (September 14/15). See www.dxfeile.ie for full information on this unique event.
(Kudos to the EIDXG for the line up of Speakers this year!)
Details

Created on Monday, 16 July 2018 06:22
QSL cards have been posted to 84 World Bureaus – Monday 16th July 2018
This mailing is a joint mailing between M0OXO Charles, M0URX Tim & M0SDV Jamie
Total amount of QSL cards dispatched: 19,303
Via M0OXO 9,632
Via M0URX 4,784
Via M0SDV 806
Via MD0CCE 471
Via 9M2CNC / G4ZFE 1,435
Via G4IRN 1,015
LZ1JZ 1,066
G4ZIB 94
I would very much appreciate feedback from you when the QSL cards start arriving at World Bureaus or received by hams around the world? This feedback will be added to our data below.
This mailing features cards from the recent expeditions, 5B80FOC, 6O6O, EJ1D, VU4G, ZC4A,
The parcels are sent by Priority Business Mail to get to the Bureaus quickly.
Total Weight 71,610g (gross weight includes packaging)

Total Cost £354.53 £4.95 per kg (Net weight excludes packaging)
Average postage cost 1.8 p per QSL card.
Details

Created on Friday, 13 July 2018 13:20
From Take JI3DST,
''I will be activating IOTA as follows;
A) Shikine Island (North Izu Island)
IOTA: AS-008 Shikine Island
1. Date :25 July 2018 06:00z - 30 July 2014 23:00z
2. Frq/Mode :40/30/20/17/15/12/10/6m
SSB/CW/FT8 (FM/RTTY/JT65)
3. QTH :Shikine Island IOTA: AS-008
JI3DST (OP:Takeshi "TAKE" Funaki)
JI3DST/1
4. Remarks
In case of heavy rain or other condition, the operation condition
may vary..
I am QRV IOTA contest.
5. QSL INFO
JI3DST/1
Please check QRZ.COM for detail.
6. e-mail JI3DST @ jarl.com
Best Regards,
JI3DST Takeshi "TAKE" Funaki ''
Details

Created on Friday, 13 July 2018 05:33
Pista HA5AO will arrive eSwatini (Swaziland) on 14 September, late afternoon.
He plans to operate during his free time between 16 - 28 September from the Mountain Inn Resort at Mbabane. He received the 3DA0AO license and an LotW certificate.

Pista will operate 80 – 10 meters using a Hustler 6 BTV vertical antenna with 17 and 12 meter add-on elements, CW, RTTY and FT8. He is bringing an Elecraft K3 with the KPA 500 amplifier. Logsearch will be available on HA5AO.com. His plans include testing a new feature of the PDXG QSL Management Platform (M0OXO OQRS/Logsearch), the uploading of QSOs in real time.

While in-country he will travel to rural areas visiting villages, schools and orphanages to deliver school supplies to orphaned children. He is interested in making a long term donation agreement to pay school fees for several orphaned children.

Pista is paying all expenses from personal funds. However he would appreciate donations through his website. Any donations received will be used only for humanitarian purposes.
Details

Created on Friday, 13 July 2018 04:47
The Team have been busy working from Mainland Ireland (EU-115) over the last week with some 6m operations.
The next Island on our list is Great Blasket Island EU-007 which is scheduled for July 20, 21 & 22.
As we near our departure date, please keep checking this or our dedicated Facebook Page ;
''Irish islands iota tour 2018''
for any up to date information regarding operating schedules.
See you on the Air !
Details

Created on Friday, 13 July 2018 03:59
Jamie Jeffries KF7WIS (CEO QRZ.Com) writes;
Here at QRZ.com we are incredibly excited to celebrate our 25th year of providing a reliable amateur radio database to the world-wide Ham community. Since our founding in 1993, we've seen a lot change in the world and in the hobby. Just to give you some context: If the internet were a family, we'd be Amazon (1994) and Yahoo's (1995) big brother, Google's (1996) cool older cousin and Wikipedia (2001) and Facebook's (2003) grandpa!

Over the years we've prided ourselves on bringing you new and innovative features like XML data, the QRZ logbook, and QRZ operating awards. And we have no plans to stop any time soon! We appreciate each and every one of our users and subscribers and we want to thank you for your loyalty and for the trust you've placed in us over the years.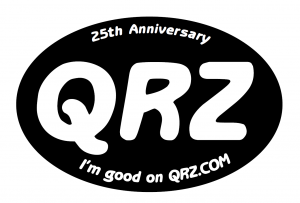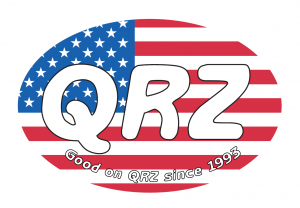 To celebrate, we are offering two 25th Anniversary designs of our "Good on QRZ" sticker. The sticker of your choice is FREE to anyone who sends a business sized, self addressed, stamped envelope to us here at QRZ.
If you would like us to send additional stickers we'd be happy to do so for $1 per additional sticker. The stickers are 3.5x4 inches in size. Most business envelopes are OK. We prefer the self-sealing kind

Please address to:

QRZ Stickers
24 W. Camelback Rd. #A488
Phoenix, AZ 85013

Please note the sticker type you prefer to receive: black or USA (or the classic blue)
If no selection is made we'll assume "dealer's choice" and pick one for you.

Keep an eye out for more upcoming announcements of our 25th anniversary celebration, including a special 25th Anniversary QRZ Operating award!

Thanks again from the whole team here at QRZ!
Details

Created on Friday, 13 July 2018 03:58
UK radio amateur John Hey G3TDZ (SK) designed the special low frequency radio equipment, the Heyphone, used in the recent cave rescue in Thailand

On Facebook Phil Karn KA9Q posted:

Naturally I got interested in the technical aspects of the cave rescue in Thailand, particularly communications.
They used the "Heyphone", a voice radio designed by a UK radio ham, John Hey, G3TDZ, as open-source hardware specifically for cave rescues.
It uses upper (single) sideband voice on 87 kilohertz in the VLF (very low frequency) band. (That's what it says -- 87 kHz is actually LF).

The "antenna" consists of two stakes driven into the ground about 20m apart. Enough of the current between them fringes outward to couple to another antenna up to a few hundred meters away (or down).

John Hey passed away in 2016 so he didn't get to see his work used here. But ham radio should get some of the credit.

Phil Karn KA9Q
https://facebook.com/phil.karn.98/posts/10155276627256486
https://twitter.com/ka9q

John Hey G3TDZ Heyphone Cave Rescue Communication System http://bcra.org.uk/creg/heyphone/

Al Williams WD5GNR has written an article on Hackaday about the cave equipment
https://hackaday.com/2018/07/11/ham-designed-gear-used-in-thailand-cave-rescue/

http://www.southgatearc.org/news/2018/july/ham-radio-technology-used-in-thailand-cave-rescue.htm
Details

Created on Friday, 13 July 2018 03:51
Renner, PY7RP will be active as PY0F/PY7RP from Fernando de Noronha Island,
IOTA SA - 003, 13 - 16 July 2018.

He will operate on 160 - 6m, indluding activity in IARU HF Contest.

QSL via his home call direct, OQRS.
Details

Created on Friday, 06 July 2018 17:11
The Team will be operating once again as ZS9V from Robben Island (IOTA group AF-064) from the evening of 17 August until sometime on Monday 20 August.
This is the weekend of ILLW. (NOT the IOTA Contest weekend).
Same as last year (SSB on 10/15/20 and SSB on 40/80). New this year will be our CW station.
Further information on the operation will be published on zs9v.org.za and M0OXO.com as it becomes available.
M0OXO will have contact with the team should any areas be experiencing difficulties (such as VK) so please contact him if you need 'special attention'.
Details

Created on Friday, 06 July 2018 16:05
RSGB IOTA Contest 2018
One of the most popular Contests of the year is on the horizon and takes place between 12:00 - 12:00 UTC 28th - 29th July 2018.
The full rules for the Contest can be found here;
https://www.rsgbcc.org/hf/rules/2018/riota.shtml
and a list of stations participating can be seen gathering pace here;
https://www.ng3k.com/Misc/iota2018.html